Signup
HERE
: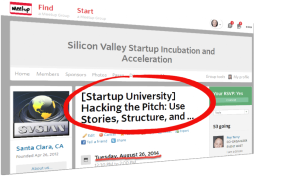 Hack your pitch with persuasive stories, and big-picture descriptions that capture the value.
Thanks to Dr Lorraine for featuring my best quick tips in her article!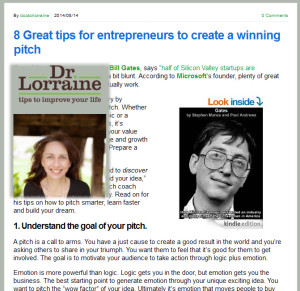 Check out the vintage pitch by Steve Jobs.
Here is the
slide deck
from Tuesday, 13 May 2014 at Hanhai Investment.  Thanks for attending and please join my email list to be advised of future events and offers. Regards, Roy Terry
How good is your pitch?
Why getting your pitch straight in the beginning is crucial to success
A 15 minute Investor pitch

Usually with about 10 or fewer slides.

The two minute pitch

Get interest, generate some questions and make a contact.

Story and structure development

You know you have value. We'll place it in a concrete situation with a notable story, humor and a convincing message.
...Roy helped me get clear on my message...(click to view video)
Evan describes rebuilding to make the pitch clearer and more confident (click to view video)