Got Pitch? Are you promoting your business, your start-up, your campaign for president? Please hear this: Your pitch will not get better until you smash it to bits and start over. Not grumpiness, not exaggeration. This is what I've seen and proven over years of coaching.

Pitch Build: What the brain hates more than thinking is disapproval. Use that!


The scoop: We humans get into ruts. Lazy habits that feel safe and comfy. In the 5 seconds walking to the front of the meeting your brain becomes a comfort-seeking machine. Safe takes over. Safe start-ups die. Big scary ideas win.

You could verify all that right here in Thinking Fast and Slow, the book by Daniel Kahneman. But that's 500+ pages. So shorter: 500+ pages prove exhaustively that humans don't like to think hard, resulting in stupid mental shortcuts. Shortcuts map to the logical gaps in your pitch, the failure to tell the point of the story, the missing transitions that live listeners by the side of the road. BIG Bummer 'cause good pitches take hard thinking.

Solution: Practicing with others helps because what the brain hates even more than thinking hard is disapproval. More about this later. Meantime here are some warning signs That your pitch is stuck in the lazy brain rut:

Do listeners edge away, get restless or go blank?
Do listeners argue with you about what you just said?
Do listeners give phony praise and change the subject?

Prescription: Go to a live pitch event. Get to the front of the room. Deliver two minutes and ask for honest feedback. Have a friend take notes. You might be too distracted. OR, if you're lucky enough to live in San Francisco, come to my workshop on 12 May 2015 in San Francisco. Right HERE. At this event you'll get actual creative energy and skill devoted to leading out of ruts and onto the success highway. Are you willing to say yes to better?


You'll get a complete reset out of lazy brain rut mode and into re-building mode. So just pitch it! And the event is free.

In the end, pitching is like every other start-up activity. It's better to fail fast, fail often, and keep a tight loop between the product and the market. Pitching is your first product. Come learn how to build the pieces to make the message that puts you in the game. Innovation only matters if it excites. And be willing to think slow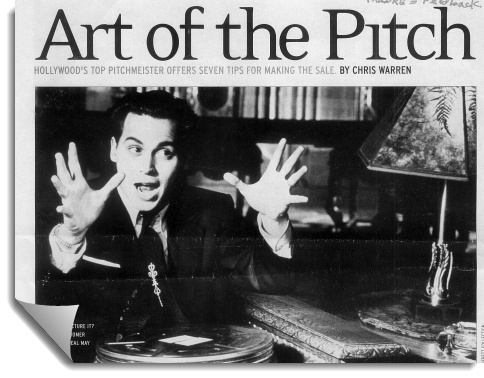 Pitching is done live…usually. But what about the pitching done when you send out your "deck"? When others repeat what you said? When they share your contact info?  All these events still matter a lot. That's why we strive to make the pitch strong, memorable, and especially repeatable. yet it's still likely to get distorted and weakened when repeated.
That's where video comes in. With a sharable "pitch" video you can guarantee that important people will get a crisp, clear, and impactful introduction to your project, it's promise, it's needs and it's next steps.
So start making video and getting comfortable in the medium. The time constraints and the one way nature of video "force" you to refine and delivery your message with discipline. That's extremely valuable. Oh, and don't share crappy video. If you can afford it, engage a pro!
That's what I did in my project with C Sharp Video Productions.  Check out their Primal Pitch feature page here. AND, if you want experience and professional assurance that your video will rock, you know who to call!
How good is your pitch?
Why getting your pitch straight in the beginning is crucial to success
A 15 minute Investor pitch

Usually with about 10 or fewer slides.

The two minute pitch

Get interest, generate some questions and make a contact.

Story and structure development

You know you have value. We'll place it in a concrete situation with a notable story, humor and a convincing message.
Dear Roy, We did get a very good feedback from the pitch Pierre gave at CAFFEET and more generally from the presentation we made of our project. We therefore would like to thank you very much again for the kind and highly useful advice you provided to us during the preparation session. It was a pleasure for us to share thoughts with you at that occasion, and it will be a pleasure to meet you again in SF should things unfold the right way for Pragma! Best regards, Olivier & Pierre Pragma Industries
...Roy helped me get clear on my message...(click to view video)
Evan describes rebuilding to make the pitch clearer and more confident (click to view video)
Roy, thanks to your great coaching, I'm getting quite the exposure in the Korean hi-tech community…I'm back in Seattle now, where we have recently setup our USA branch.