Here is the slide deck from Tuesday, 13 May 2014 at Hanhai Investment.  Thanks for attending and please join my email list to be advised of future events and offers. Regards, Roy Terry
Join me at a free open workshop where you can learn about winning pitch structure and technique. AND practice both in small groups and to the whole room. Tuesday, 13 May 2014, at 12:00 in San Jose. Full Details are here on Meetup.com Pitching Explained:Structure and Practice for a winning Tuesday, May 13, 2014, 12:00 […]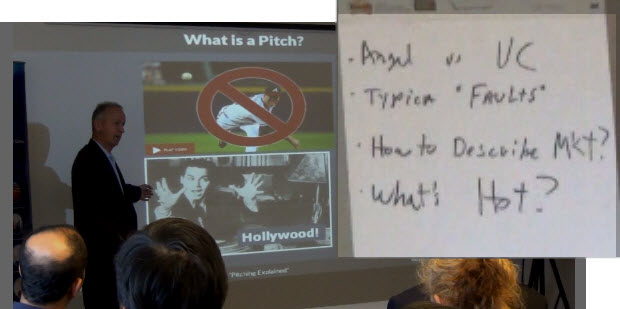 Here are the questions from last week's workshop that we still need to address directly. Difference pitching to angels or VCs? Typical Faults in the pitch How to describe the market and the competition What's hot (What investors are most interested in) Do Angels and VCs need different pitches?  No. But the style and formality […]
How good is your pitch?
Why getting your pitch straight in the beginning is crucial to success
A 15 minute Investor pitch

Usually with about 10 or fewer slides.

The two minute pitch

Get interest, generate some questions and make a contact.

Story and structure development

You know you have value. We'll place it in a concrete situation with a notable story, humor and a convincing message.
...Roy helped me get clear on my message...(click to view video)
Evan describes rebuilding to make the pitch clearer and more confident (click to view video)